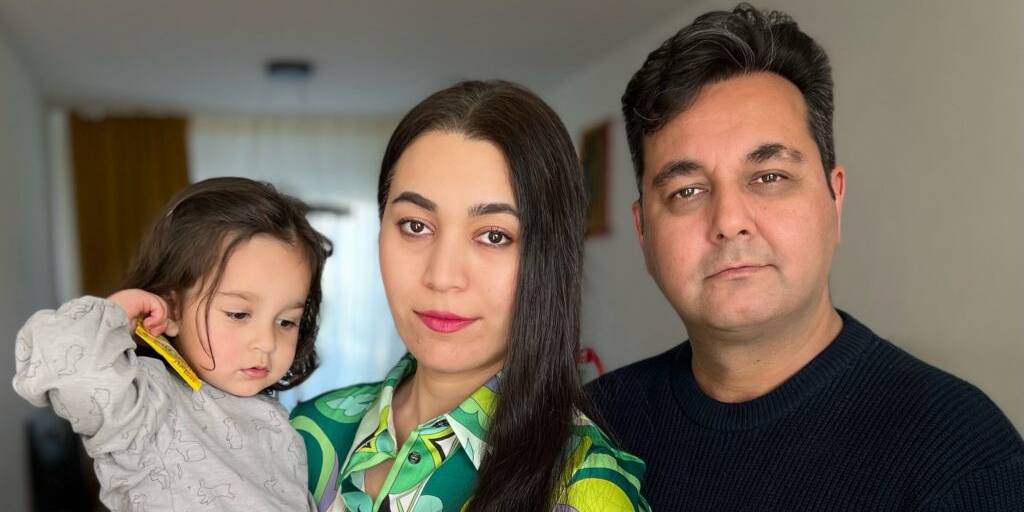 "For many people, losing their home is unthinkable. However, it is a reality for many people. To make the reality of these people's lives more tangible, Alex Bühler spoke to the Taiman family for us."

The Taiman family came to Germany separately: first Tahmina, an Afghan university lecturer, in 2018, then her husband Jawed, who worked as a director in England and moved to Germany for his wife. And finally, two years ago, their daughter was born, whose home is now the small town in the Rhineland. Their grandparents had to leave Afghanistan too – the danger from the Taliban was too great. An interview with Jawed and Tahmina Taiman about how difficult the loss of home is and what their future might look like.
An interview by Alex Bühler
Jawed:
I think if it wasn't because of instability and war, I would probably still be in Kabul. But because of the problems that triggered the fighting that started, the lack of security and all these things actually enforced me to leave Afghanistan and come to Germany, of course. And I found a new home.
Q: Tahmina, what do you miss most?
Tahmina:
I miss my job most.
I was a lecturer in Kabul University in the theatre Department, and I teach Puppetry, so I most miss my job and my students and the area. Actually, I studied in Kabul University and then I worked there, so it's almost half of my home, so I miss that a lot.
Alex:
Tahmina, you taught figure theater. Is that very close to marionette theater?
Tahmina:
I teach puppet for my students to perform that for kids and also for adults and say something with puppets – that sometimes is for adults also like if you talk as a children, they can understand more. Everybody has a child inside. So I take that kind of puppet for my students who can say something to adults and children, and they have some aim to adults and children and learn them something through puppet. Not directly.
Alex:
I saw that there is a specifically Afghan theater, the Buz-Baz Theater, with a goat as the main character and music. Did this traditional cultural form come up as a topic?
Ich habe gesehen, dass es ein speziell afghanisches Theater gibt, das Buz-Baz Theater, mit einer Ziege als Hauptfigur und Musik. War diese traditionelle Kulturform ein Thema?
Tahmina:
I think it was most culture because my student came from different parts of Afghanistan and they have very different cultures in their cities. So it was very interesting and nice to talk about culture through puppets. And others can learn different culture of Afghanistan because some people, even if they live in Afghanistan, they don't have information about different culture of different cities or different people. So it was most culture for adults and for course, for children was, basic education, not so big or culture talk, but for adults most of the time, culture.
Alex:
Jawed, what do you miss most?
Jawed:
Oh, that's a very good question. If I had to make a list on a piece of paper, it's going to roll like an Afghan carpet with too many memories, too much to miss the country, the landscape, I would say, because I was a filmmaker. I traveled a lot around Afghanistan.
Yeah. I just miss the natural beauty and the peace and harmony that the landscape provided. That's what I think I missed the most.
Alex:
Could you give us an example of that?
Jawed:
I did once traveled to Samangon Province. And I usually used to think of Afghanistan being mountainous with, like, rocky, pointy mountains. But as I was traveling to another district from the capital of Samangan, on the way, I saw canyons – that was very strange for me to see, like, flat mountains which are flat carved flat. And I was thinking, like, how did that come about in these valleys? And I stopped the car and I started taking photos because I said if I show it one day to people, they have to believe me that I saw these sorts of mountains in Afghanistan. And believe it or not, I saw mountains which had elements of blue color. I saw mountains which had elements of red color in them, Gray mountains. You can find all sorts of mountains even I found Lake on top of a mountain province.
Alex:
You're still working on a movie. What is it about?
Jawed:
The film that I'm working when I started working, this idea came about when I was part of a German feature film which was shot in Afghanistan called "Zwischen Welten" or In Between Worlds, directed by Feo Aladag. So the main character of this film became subject of my documentary. I wanted to follow his journey from a young village boy from the north of Afghanistan who eventually made it onto the red carpet at the Berlinale Film Festival and his experience through that time. But then I sort of left the film, didn't touch it. And then when the events unfolded, when the Taliban took over country, the director, Feo and myself, we started looking into opportunities to save this guy from the trouble, not to be captured by Taliban because he acted in this German film and he would probably face consequences. So I kind of wait on and I followed the story of him getting out of Afghanistan, coming over to Germany to start his life. So it's basically a film which was originally supposed to be a life experiment of a human being. From being in a village to walking on a big European red carpet, turns out to be more of a humanity project, humanitarian project, some people trying to save people, which is what you guys are doing at Luftbrücke. And, of course, you guys were part of it because you guys evacuated him over to Germany. That's basically my film. I'm still working on it, and I'm hoping for opportunities to finish.
I'm planning to go over to the city where he is at the moment with his wife and little son. And we will continue to shoot for a few weeks and then probably wrap it up.
Alex:
How is it in Afghanistan at the moment?
Jawed:
Because of my love and my passion for the country I'm very much aware of what's going on in the country through digital media, the news that is fed from the country. So I always have updated news. I talked to my friends back home in Kabul, people in media, working in media, and I asked them about the situation and everything. And what I'm seeing, which is very sad, is that people are losing hope. They're they are in desperation to quit their country and just leave and find a better opportunity for themselves and for their children outside of Afghanistan. And yeah, it's quite saddening. And I have to be honest, it's also traumatizing for me because I've been hearing all these things for the past six months, and it's not the good news.
Alex:
How do you deal with the media? Do you still follow the news?
Wie geht ihr mit den Nachrichten um? Verfolgt ihr die Nachrichtenlage trotzdem?
Jawed:
My wife is doing better. She doesn't listen to any of the news. She doesn't want to be upset. It reminds her of bad memories.
Alex:
Since you've been working in an international setting for a while now: Does Tahmina have plans to start puppet theater again here in Germany?
Jawed:
I think that would be good because she talked earlier about Sesame Street. I mean, she talked about puppet theater. I produced the afghan version of Sesame Street for Tolo TV in Afghanistan.
Alex:
Can you still watch it on the internet?
Jawed:
I will send you like some of the it's called The Bachelor Simpson or the Garden of Simpson. And my wife was part of the training. She received training, puppeteer training from a master puppeteer who came from New York for two weeks in India. She became really good, she was very much liked by the master puppeteer, how she picked up quickly the skills. But she came back, she passed on the information to University students. And I went on to produce the segments on television for the children of Afghanistan.
Alex:
Where do you get the inspiration to keep this up?
She has the knowledge and the skills. She also has some of her own ideas of creating her own Theatre, perhaps telling the Afghan stories, like some real stories to theater or through puppeteering, because puppeteering has two versions. You can have the kind of dark adult version or you can have the lovely Bubbly children version.
Or a mixture.
Alex:
Are there any other cultural links?
Jawed:
When we were on our trip to India and we saw some people – especially people of Rajasthan – in India it is very popular with this marionette kind of tell the King and Queen story and the war story. So we watched a lot of those shows in India together.
Tahmina:
We have a famous story in Afghanistan. It's called Bodekichini or the translation of the Chinese.
And yeah, this is my favorite story. And sometimes I tell that story to my daughter as well in Persian. This is the story I heard when I was child and once with my students we performed that and it was very nice and my favorite one.
Alex:
Have you, Tahmina, ever thought of translating the story of becoming a refugee into this kind of theater?
Tahmina:
Yes, I always thought about it actually. I talked with some people in Cologne and actually it's a little bit hard because they couldn't get that couldn't get my idea or them are not interested in.
Alex:
Do you actually design your puppets yourself or how does that work?
Tahmina:
When we were in University we had a session where we designed the puppet by ourselves. Students came to a different group and I teached them to design their own puppet sometimes. That was very interesting and they were very talented and sometimes it didn't work but we did it.
Alex:
Do you still have photos of these puppets?
Tahmina:
I tried to find I had some but in my old computer if it still works then I can get them.
I had a lot in my office office in Kabul but unfortunately I went to back and get all of that and until my colleagues all flee from Kabul University because they had some trouble so I think we lost all of them.
Alex:
I know it's a very stupid question but I still have to ask that: is puppet theater something that the Taliban would hate?
Tahmina:
Yeah because it kind of shows and it's like –
Jawed:
A statue and a statue is not regarded Islamic
Alex:
Because it shows images.
Tahmina:
Actually I don't like to hear news except for the reason helping my colleagues to get out of Afghanistan. The Taliban are closing the Theatre section and they are mixing finance faculty to only one small kind of faculty or Department that is not as big as before. Because there's no students and there's no lecturer left. All are afraid from Taliban, they check all the people there.