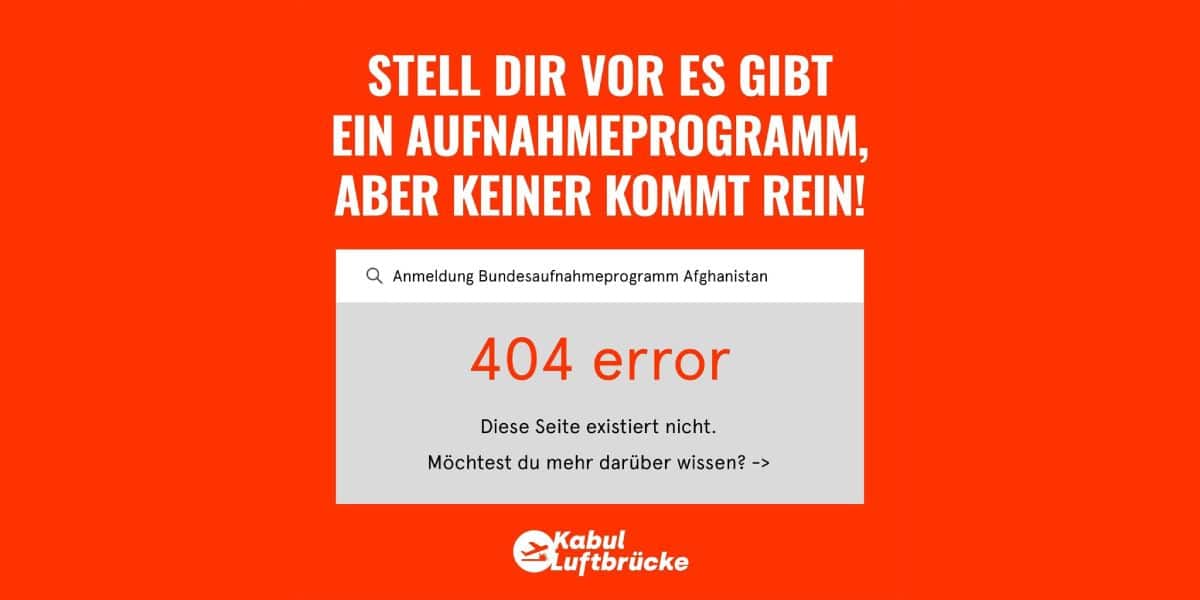 Press release – Federal Reception Program Afghanistan
Federal admission program forces vulnerable to stay in Afghanistan
In today's press release from the BMI and AA, the ministries announced the start of the humanitarian admission program for Afghanistan, which vulnerable individuals and their families have been waiting for for over a year. Access to the program will be limited by only being able to apply through selected NGOs, which will be overloaded with the task. Once again, it is civil society that is expected to bear the government's protracted assumption of responsibility. Kabul Luftbrücke criticizes severely limited access to the program.
By limiting access to the reception program to selected NGOs eligible to register, the federal government continues to deny acutely endangered Afghans the opportunity to file their own requests for protection. "After months of NGOs and ministries working together, we end up being made gatekeepers again," says Tilly Sünkel of Kabul Luftbrücke. "By doing so, the federal government makes it a matter of luck and privilege whether one can even register for the program: Application is reserved for those who already have contacts with a German NGO. It is precisely the most vulnerable who run the risk of being overlooked."
"The German government also wants to exclude people from the program who have already fled to Afghanistan's neighboring states – even if they do not have a secure residence title there and are threatened with deportation to Afghanistan," Sünkel continues to criticize. This logic forces acutely endangered people to stay in Afghanistan so that they have any chance at all of being accepted in Germany.
These access restrictions seem to serve the federal government primarily to keep the need for the admission program promised in the coalition agreement artificially low. An admission program without access – "That's like the federal government inviting vulnerable people in Afghanistan to a wedding without giving them the address," Sünkel says. Kabul Luftbrücke is calling on the federal government to allow vulnerable people in Afghanistan to register individually for the federal admission program and to expand the program's focus to include Afghans who have fled to neighboring states. It must also continue to be possible to evacuate people away from the reception program in acute emergencies. Otherwise, threatened Afghans will continue to die at the hands of bureaucratic hurdles.
Kabul Luftbrücke is a civil society initiative that recognizes and accepts its responsibility to the Afghan people. With the help of donations, we have already succeeded in helping over 2,700 people leave the country safely and legally, and we continue to do so.
Press contact: press@kabulluftbruecke.de